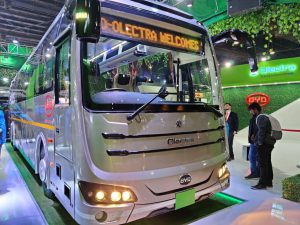 Olectra participated at Auto-Expo 2020 from 5th to 12th and launched its first lineup of 12-meter long C9 electric bus for intercity transportation.
The new electric C9 range is zero emissions and has a seating capacity of up to 45, which can cover up to 300 km in a single charge with a maximum power of 360 kw and a speed of over 80 km/h.
The bus is designed with various safety features including TUV-Certified EU Compliant FDSS System, ADAS System(Driver Fatigue System) and ITS System as per Indian regulatory requirement. It includes a panic alarm system and emergency lighting system to tackle any situation in the case of accidents.
In the presence of N K Rawal, Managing Director, Naga Satyam, Executive Director, Nitin Gadkari, Minister of Road Transport & Highways, Shipping and MSME, unveiled Olectra-BYD C9-the first inter-city electric coach in the country during the Auto Expo at Greater Noida.

"We are the first one to launch intercity city long distance coach in electric range in India. With this range our intention is to make long distance travel eco friendly," Nagasatyam added.